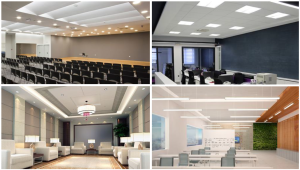 Increase Energy Efficiency & Reduce Costs with Intelligent LEDs!
How much would you save operating just a handful of units instead of 50, 100, or 1000 lights every day?
What if your lights were intelligent enough to turn off or dim as needed?
How much could you optimize your space if you knew when and how rooms were being used?
Find out at our free lunch & demo!
Select Telecom is excited to offer a new suite of products that will make these dreams a reality for our customers, enabling you to utilize your space, energy, and money more effectively: LED lighting powered by the Redwood intelligent lighting network solution!
Comprised of low voltage LED lights, a network of sensors that track motion, temperature, and light, and a smart software management platform, the Redwood solution:
Increases energy efficiency and reduces costs with low voltage LEDs and automated controls
Optimizes space with suggested floor plans and dynamic conference room management
Integrates systems with open-API software that partners with your existing data, HVAC, security, and more
Wednesday, June 17th, 2015
Select Telecom
333 Westchester Avenue, White Plains, NY 10604
(Directions – GPS use "1 Commerce St., Hawthorne, NY")
Schedule:
10 am – Program Start
12 pm – Lunch/Q&A
RSVP to sales@select-tele.com