Crosstalk with Select Telecom (Spring 2016)
Select Telecom's clients mostly think of us as a telephone company. We're who you call when you need to install a new phone system, change an extension, or alter some programming. That makes sense: when people think about telecommunications, they think about phones. But in addition to our unmatched 24/7/365 service on phone systems, we also spend a lot of time working on cabling jobs.
Data cables are the bones of your company's communication, the roads to your intranet, the internet, and your phone system. Unless you use wifi and cell phones exclusively, wherever you want a computer or a phone, you need a data jack. A properly cabled office with data jacks in the right locations will look nice and organized, without the chaos of tangled wires run all around the room. (See our tip about velcro in this Crosstalk for more help on that front.) And for IT professionals, there is nothing more reassuring than an IT room or closet that has been built by Select Telecom's cabling experts.
We run into cabling catastrophes all the time in the field: data jacks falling out of the wall, large cable bundles supported by ceiling tiles, unlabeled patch panels… you name it. Here's how Select Telecom does cabling better: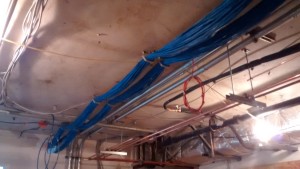 We secure cables directly to the ceiling in orderly bundles.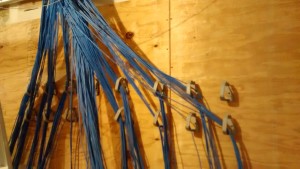 By organizing the cables based on where they will be terminated on the patch panel, we make sure that we'll end up with a patch panel like the one shown directly below.
Now doesn't that look like a perfectly neat patch panel? Kudos to Steve D, who ran and terminated these cables in our new office.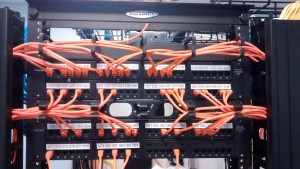 We always use wire management so that your data rack can look just as neat as ours, pictured here. Call us today if you want your data rack to look like this.